Bouldering Progression Series - 1 Month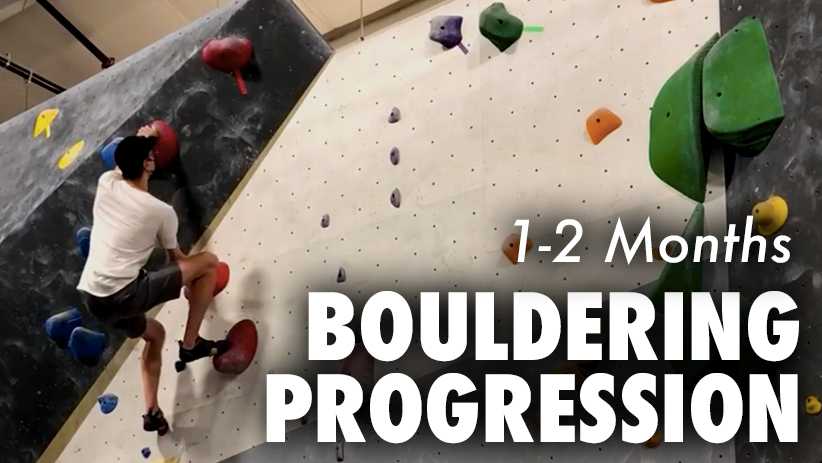 Having started climbing 5 months ago I am totally hooked! It has been a challenging, interesting and rewards experience so far. I think the level of stoke is high since progress is easily seen and felt in major ways. With that I wanted share how that progress was going so that others may be inspired and for a future self to look back at.
In the earliest two months I put a heavy focus on just getting in mileage. Mileage being the climbing terms for lots of reps of completing a high volume of boulder problems and routes. Goal being just getting used to the motions and generally sticking to problems that aren't very challenging. My starting base level of upper body fitness was also completely non-existent. I believe this was amplified by COVID and a far less active couple of years. Once I pushed through the total newb phase and found quieter hours at the gym I felt more comfortable recording myself getting up the wall.
1 Month Analysis
Observations
I have a lack of trust in my feet and foot slips from not maintaining weight in the foot hold when a hand makes it to a next hold.
Often switching hands and figuring out beta in the middle of a probleming.
Minimal if any use of flagging.
I noticed I make lots of micro-adjustments and almost fidget on each hold.
The biggest takeaway from the above was definitely getting ahead of and eliminating all the micro-adjustments from my climbs. My next bouldering session I made a conscious effort the be solid on each grab. If any adjustment are needed attempting to make one adjustment and move on.
Conclusion
I highly recommend recording video for climbers of all levels. Recording are chatting with folks at the gym/crag can provide one a new perspective on technique, style and beta.
Subscribe to Stephen Tvedt
Get the latest posts delivered right to your inbox